Informer Journal
(informer)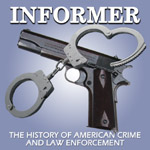 Informer focuses on historical events, personalities and trends related to crime and law enforcement within the United States. The journal has specialized in organized crime history, in particular the history of the American Mafia. Along with carefully researched and meticulously documented historical articles, Informer regularly presents columns, book news, interviews and reports on significant recent events.

Thomas Hunt, editor/publisher of Informer: The History of American Crime and Law Enforcement, is also coauthor of Deep Water: Joseph P. Macheca and the Birth of the American Mafia and DiCarlo: Buffalo's First Family of Crime, author of Wrongly Executed? The Long Forgotten Context of Charles Sberna's 1939 Electrocution and publisher of The American Mafia history website (mafiahistory.us).

Address mailed correspondence to:

Thomas Hunt, 64 North Main St., Whiting, VT 05778.